The Port of Grandview announced four new businesses coming to the Byam Business Park. Bestebreur Bros. Construction, Fast Mobile Service,Indian River Transport and Henningsen Cold Storage have all purchased Port property and are building new facilities.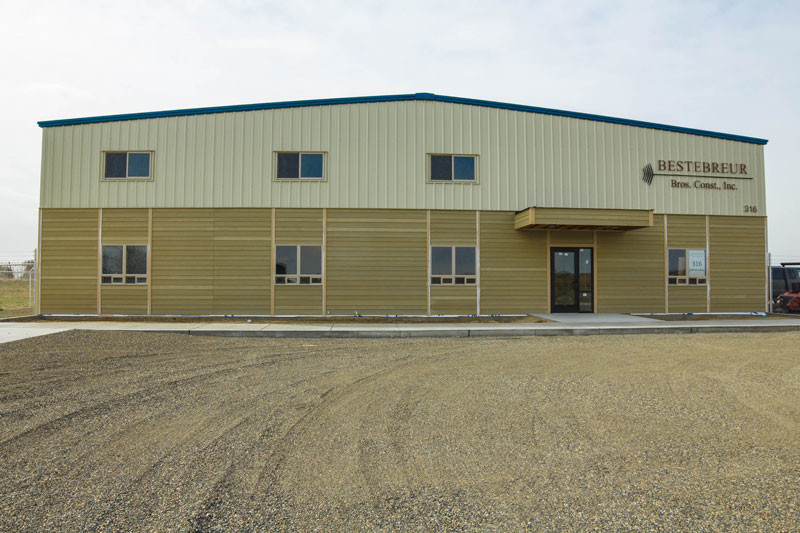 Photo by Nicholas Mejia
Bestebreur Bros. Construction Inc, has purchased three acres of property on the west end of Byam Business Park. Bestebreur Bros. Construction has been in business since 1958 and works throughout southeastern Washington on projects ranging from commercial construction to civil and industrial projects. The company has just completed a new shop and office on the Port property and is moving their home office to Grandview from Sunnyside.
Fast Mobile Service, or FMS, was started by David Ruelas in 2005. The business has been located in Sunnyside for the past 12 years. FMS is a diesel mechanic shop that specializes in the service and repair of semi-trucks and farm machinery, as well as fleet maintenance and repair and offers 24/7 emergency roadside assistance. They just completed a 15,000 s.f. four-bay shop and parts store. Currently, FMS has 13 employees and plan to hire more as the business grows.
| | |
| --- | --- |
| Photo by Nicholas Mejia | Photo by Nicholas Mejia |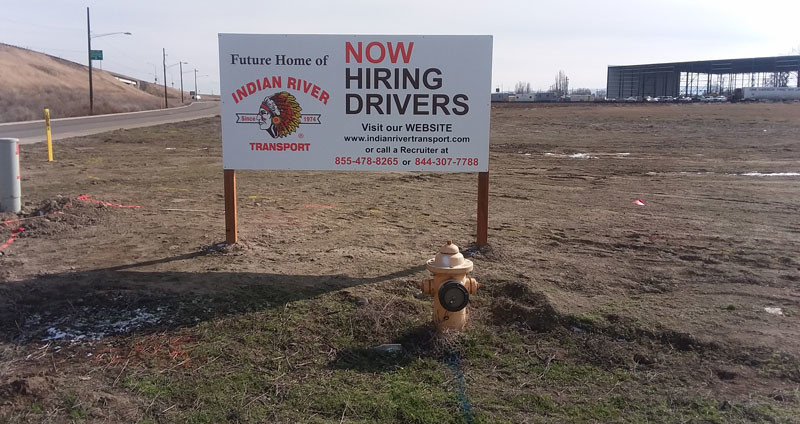 Photo by Nicholas Mejia
Indian River Transport is a company with its corporate office in Winter Haven, Florida. The company is a bulk food-grade tanker transportation service, which hauls commodities consisting of any food-grade liquid. The company purchased five acres at the corner of Colleen's Way and Stover Road, where they plan to build their Northwest terminal, which will include a repair facility and a food-grade tank wash. The company plans to open their new terminal during the third quarter of 2018 and plans to bring 20 to 30 employees to Grandview.
Henningsen Cold Storage Co. has purchased 26 acres of the Port's Byam Business Park in Grandview. Henningsen is one of the largest public refrigerated warehousing companies in the U.S. with locations in Washington, Oregon, Idaho, North Dakota, Oklahoma, and Pennsylvania
Phase I of the Grandview facility will be almost 142,000 SF and will be located on Stover Road. Construction of Phase 1 commenced in November and will be completed and ready to receive product in June.
| | |
| --- | --- |
| Photo by Nicholas Mejia | Photo by Nicholas Mejia |
Owners of all four businesses are looking forward to joining the Grandview community, and said Port of Grandview officials have been helpful since day one.
"We chose the Port of Grandview property because of the location and they made the process very easy for us," said FMS Accounts Manager Fatima Ruelas. "Working with the Port of Grandview has been the easiest part about this whole process. They were willing to help us in any way they could and guided us through this process."
Steve Ferguson with Indian River Transport said they chose to buy in the Port because of the property's amazing location and the support from the entire Port of Grandview team. Ferguson said working with the Port of Grandview has been a very positive experience.
Glenn Bestebreur of Bestebreur Bros. Construction said his company looked at property throughout the Yakima Valley and found the Port of Grandview property to be a good value. "The infrastructure is all there - water/sewer, curb and gutter, the streets are paved and preliminary soil (tests) are done,"
Bestebreur said. "It's ready to build on."
A Henningsen spokesman said "As a Northwest family-owned company, we are excited to support the continued growth of our region, and look forward to working with both the Port and the City of Grandview."
Port Commission President Jim Sewell congratulated the four new businesses and welcomed them to the Port. "Having four new major businesses under construction at one time is a major step in the Port of Grandview's efforts to bring new business and jobs to the district," Sewell said
Posted March 06, 2018